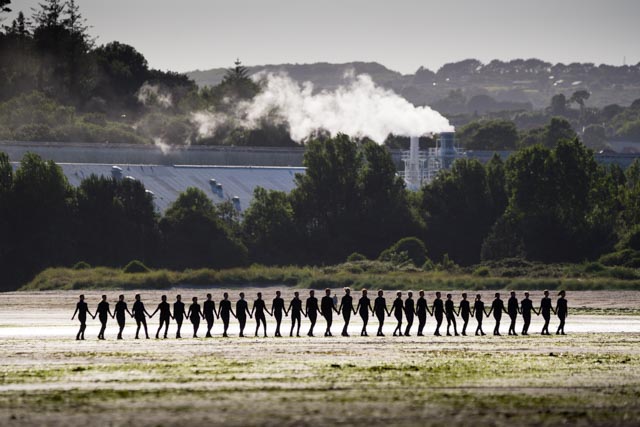 Image: © Steve Tanner
Par beach
Rosemary Lee
22, 23 & 24 June
Passage for Par is a dance performance created specially for and presented on Par Beach, conceived and directed by choreographer Rosemary Lee.
At the turn of the tide 30 women will rhythmically snake their way across the tidal landscape, tracing meandering pathways through the wet sand, their outlines etched against the sea and sky. Following their movements from afar on headland or dune, viewers are invited to take time to discover the ever-changing landscape as the women slowly continue their passage through it.
A Passage for Par will begin at approximately the following times:
– Friday 22 June         7.15pm
– Saturday 23 June     8.15pm
– Sunday 24 June        9.15am
Each passage lasts for about 90 minutes. Come to Par Beach to witness either the full duration or part of the performers' journey. Visitors are invited to bring a picnic and refreshments, a blanket to sit on and appropriate dress for cooler evenings on the beach.
The performance is best viewed from a distance and Rosemary Lee requests that visitors don't approach the dancers on the tidal sands – please bring binoculars if you would like to study the performers' movements in detail.
Performances are free to attend and no booking is required.
Facilities, parking and accessibility
Par Sands has two car parks adjacent to the beach. There is no charge for parking after 5pm for performances on Friday and Saturday. To use the car parks on Sunday morning, visitors will need to pay 70p per hour. There are toilets on site – accessible with a 20p payment.
Wheelchair users and visitors with disabilities might like to view the performance from an accessible platform with a bench. The platform has a tarmac surface and is accessed via a pathway near the smaller of the two car parks.
Groundwork volunteers will be working as stewards for performances – they will be wearing high vis jackets and can answer questions and direct visitors to facilities.
More information about parking and facilities can be found on the Friends of Par beach website: www.parbeach.com

Passage for Par has been commissioned by CAST for Groundwork. Produced by Dance Republic 2 in association with Artsadmin.
Rosemary Lee is a choreographer who has created a range of work over the last 30 years, from large-scale site-specific works and solo works to video installations and short films. Regardless of their scale, these projects have an intimate quality and often explore our relationship with our environment.
More