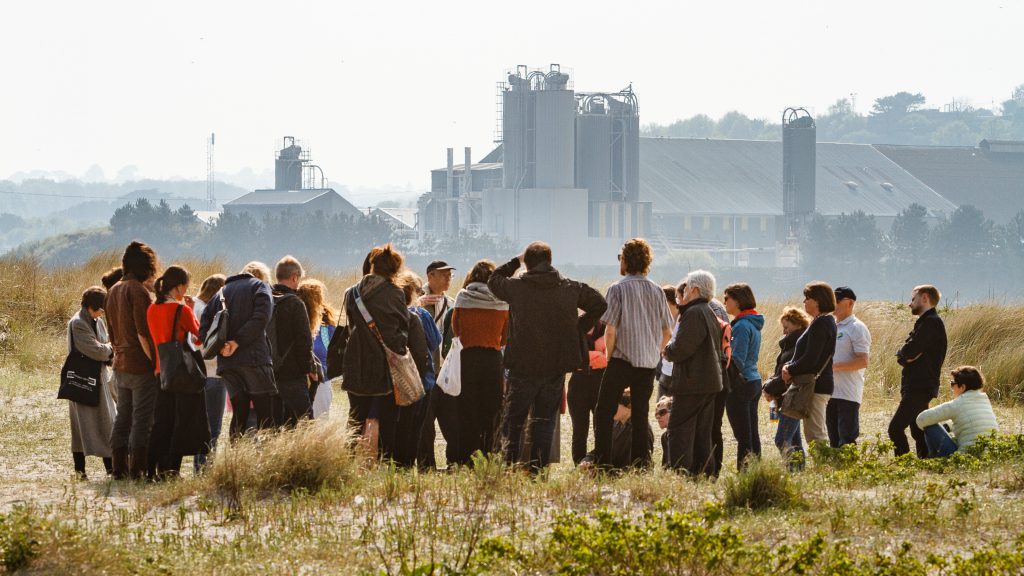 Image: Mike Newman © CAST (Cornubian Arts and Science Trust)
Par beach is an expansive sandy beach flanked on one side by the green fields of the Gribbin headland and on the other by the industrial landscape of the man-made port and buildings relating to the china clay industry.
The industry has had a visible impact on the landscape around St Austell and has dramatically altered the flora and fauna of the area. The vegetation that once clothed the hills has been replaced – buried under waste tips and mica dams or physically removed by the gargantuan china clay pits. In its place a very different flora has become established, either by natural colonisation or by extensive man-made reseeding and regeneration. The area now has a unique flora – nature's response to the opportunities created by more than two centuries of extensive quarrying operations.
The flora of the port and beach at Par has also been dramatically altered. In total 878 flowering plant species have been recorded on Par beach. This exceptional biodiversity is, to a large extent, a consequence of the china clay industry. When ships left their ballast on the beach they introduced species from ports around the world. A high proportion of these species were able to seed and establish themselves in the various habitats Par beach provides.
Par Beach, Par, St Austell, PL24 2AS
Par beach is a short walk from Par station which is on the main line from London Paddington to Penzance. First Great Western trains are scheduled to stop at Par shortly before and after performances of Passage for Par.
Find more information about train services to and from Par here.