Academy of Music and Theatre Arts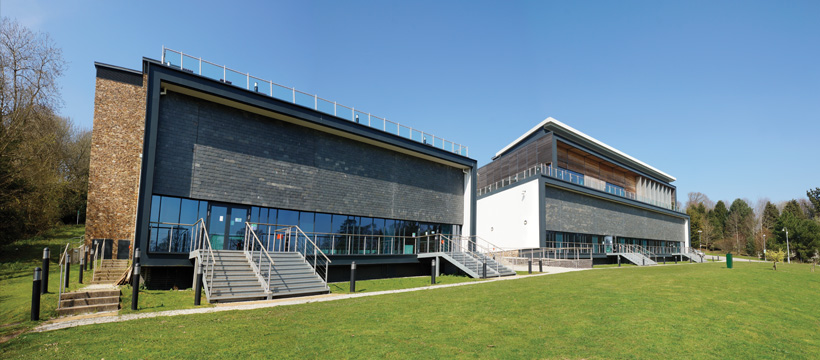 Image: courtesy of Falmouth University
The Academy of Music and Theatre Arts (AMATA), on Falmouth University's Penryn campus, opened in 2010 and offers courses in Music, Theatre, Acting, Dance and Entertainment Management.
AMATA is also a professional venue that hosts a year-round public programme, attracting artists and performers from all over the world.  Recent seasons have seen sell-out shows from leading companies such as Shobana Jeyasingh Dance, Wardrobe Ensemble, Belarus Free Theatre, Forced Entertainment and Kneehigh, and concerts from groups and ensembles including Cara Dillon, Sheelanigig, Bellatrix, Jana Winderen, BSO, Seckou Keita, Adrian Utley, Neil Halstead, Bill Drummond, Rei Nakamura, Troy Miller and Graham Fitkin.
In the last year Groundwork has collaborated with AMATA to present lectures by Catherine Wood, Senior Curator, International Art (Performance) at Tate Modern and by choreographer Rosemary Lee.
The Academy offers eleven performance and rehearsal spaces, an additional large flexible theatre space, over 650 square metres of sprung dance floors and a recording complex housing a range of digital and analogue technologies with four control rooms and multiple live rooms.
Falmouth University, Treliever Road, Penryn TR10 9LX
AMATA in located on Falmouth University's Penryn campus – follow signs for Falmouth University.
Parking on Thursday 31 May and Friday 1 June is free for one hour only, in the University's Sports Centre car park, accessed via the main driveway to the Penryn campus.
Free parking on Saturday 2 June and Sunday 3 June in the AMATA car park, accessed via Kernick Industrial Estate, Annear Road, near the Asda roundabout above Penryn.
For more information about directions and parking visit www.amata.org.uk/visitus.