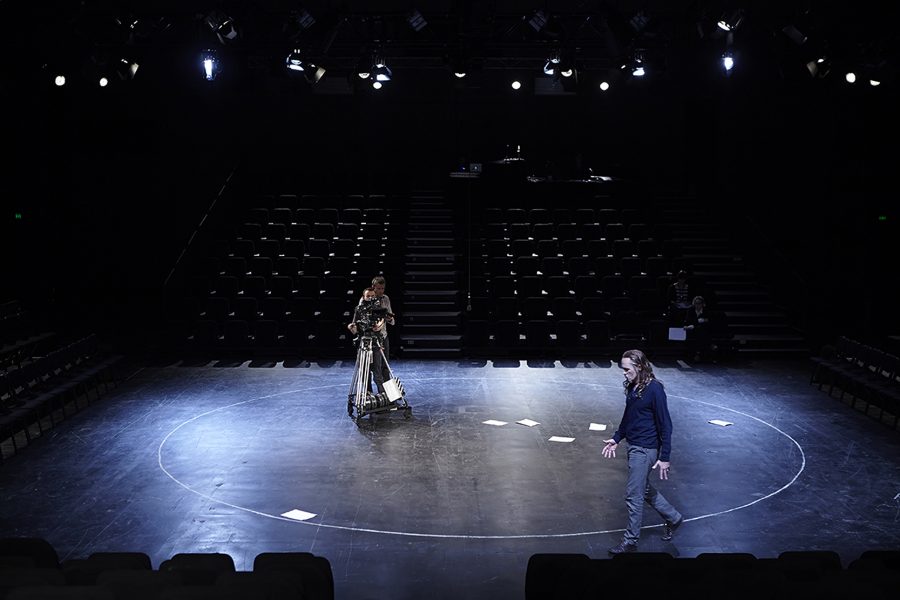 Image: Zan Wimberley. Courtesy the artist, Frith Street Gallery, London, and Marian Goodman Gallery, New York and Paris
Academy of Music and Theatre Arts
Tacita Dean
31 May - 3 June
Opening hours:
Thursday to Sunday, 10am – 5pm
Free admission, no booking required
Film duration: 50 minutes
Screenings will start on the hour at the following times:
10am, 11am, 12 noon
2pm, 3pm, 4pm
Tacita Dean's 16mm film Event for a Stage (2015) will be presented over four days at Falmouth University's performing arts centre, AMATA.
Originally commissioned as a live performance over four consecutive nights for the 2014 Sydney Biennial, it was Dean's first foray into theatre and her first experience of working with an actor. What resulted was a fierce interplay between the artist and the actor Stephen Dillane as they struggled to understand and accommodate each other's disciplines. Dean filmed each of the four nights as part of the performance and reworked the footage to explore the interplay between reality and fiction that theatre is built around.
This exhibition has been organised in partnership with Falmouth University's Academy of Music and Theatre Arts (AMATA).
Tacita Dean is a British artist, best known for her use of analogue film. Her films act as portraits or depictions, capturing fleeting natural light or subtle shifts in movement. Her static camera positions and long takes allow events to unfold unhurriedly.
More