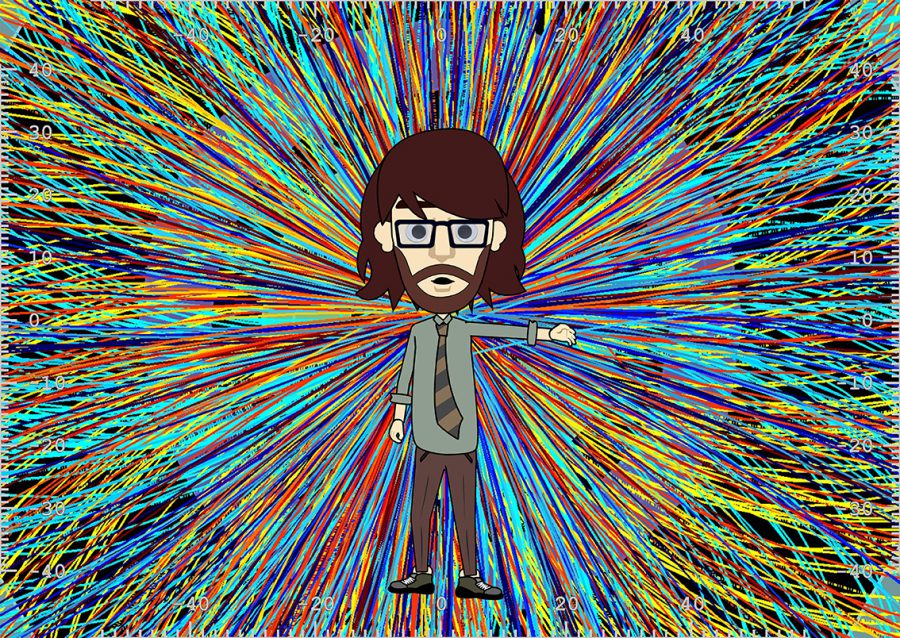 Image: courtesy the artist
Academy of Music and Theatre Arts
Andy Holden
Saturday 5 May, 7pm
Laws of Motion in a Cartoon Landscape LIVE
Free admission, booking essential
Through close observation of the adventures and mishaps of Wile E. Coyote, Road Runner and Bugs Bunny, Andy Holden has analysed the conventions that operate in the virtual realm of the animated cartoon, to come up with ten non-Newtonian Laws of Motion in a Cartoon Landscape.
In this special live performance Holden is transported into the cartoon world via green-screen technology, offering a dazzling journey through the history of animation, critical theory, physics and art, before arriving at contemporary politics and Trump Tower – ultimate proof that the world has now come to resemble a cartoon.
Andy Holden's live presentation of Laws of Motion in a Cartoon Landscape has been organised in partnership with Falmouth University's Academy of Music and Theatre Arts (AMATA).
Andy Holden is an artist and musician whose approach is characterised by a desire to connect to audiences, while retaining his own idiosyncratic internal references and motivations. Often concerned with our relationship to the past and how we make sense of ourselves, his work tackles history, nostalgia, and philosophical enquiry.
More