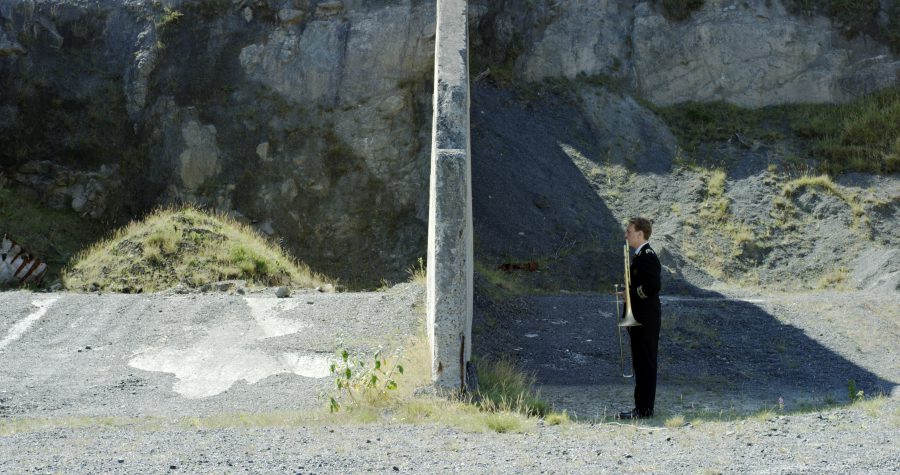 Image: courtesy the artist
Epworth Hall, Helston
Abigail Reynolds
Sunday 6 May, 6pm
The Mother's Bones | screening and live performance
Free admission, booking essential
The Mother's Bones (2016) was filmed with the St Keverne Band in Dean Quarry on the Lizard Peninsula. First formed in 1896 from the quarry workforce, the band is intimately linked with the place.  
Shots of the band playing in the quarry are juxtaposed with models of the seven crystal systems used to classify rock crystals according to their atomic lattice or structure. Music composed by the bandleader Gareth Churcher creates a soundscape for the film, while images engage with the vast scales of geological time.
For this special screening St Keverne Band will perform a live version of the film score, followed by a programme of music composed by Gareth Churcher.
The Mother's Bones was supported using public funding by the National Lottery through Arts Council England. It was produced in partnership with Plymouth Arts Centre and Kestle Barton. With special thanks to Spike Island for their support in providing equipment for this event.
___________________________
Abigail ReynoldsAbigail Reynolds's work is closely linked to books, which she uses both as sites of research and as source material. Working within the British landscape tradition, Reynolds mines the cultural remains of our recent past, searching for patterns, rhythms and networks of association and meaning. Her sculptural assemblages and three-dimensional collages splice disparate images together, releasing them from the time of their capture and opening them to more nuanced meaning and association.
Recent exhibitions include The Universal Now and further episodes, PEER London (April 25 – June 23 2018), We Beat the Bounds, a live work commissioned by Tate St Ives to celebrate the opening of the new building (October 2017), Lost Libraries at Art Basel Hong Kong and Art Basel Miami Beach (2017), and the West China Biennial (2016). In March 2016 she was awarded the BMW Art Journey prize at Art Basel, to travel to lost libraries along the Silk Road. Her book 'Lost Libraries' was published by Hatje Cantz in December 2017.