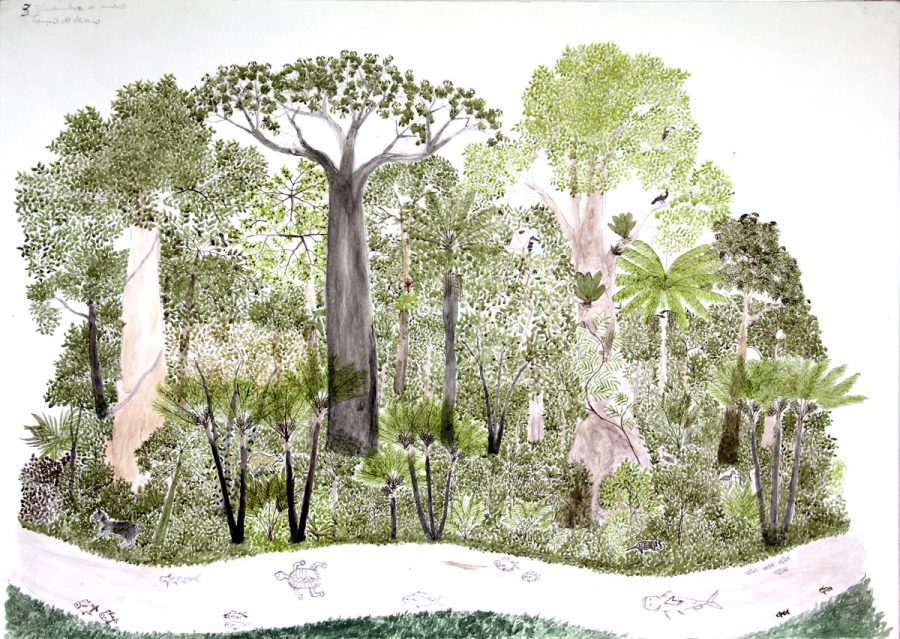 Image: courtesy Tropenbos International and José Roca FLORA ars+natura, Bogotá, Colombia
Trebah Garden
José Roca
Monday 7 May, 2pm
Free admission, booking essential
Curator José Roca is visiting Cornwall to give a talk about Abel Rodriguez, an indigenous elder and artist from the Colombian Amazon region. The talk will take place in the spectacular setting of Trebah Garden. Rodriguez is a member of the Nonuya ethnic group and has worked closely with Tropenbos, an NGO concerned with indigenous communities in tropical rainforests, for over 20 years. His paintings have attracted international attention – all have been made from memory since he moved to Bogotá over twenty  years ago and Tropenbos encouraged him to convey his knowledge of the intricately intertwined ecosystem of the rainforest in visual form.
Roca will discuss his personal experience of knowing and working with Abel Rodriguez, whose work he has curated in numerous international exhibitions. Contextualising Rodriguez within his own curatorial practice, which has engaged with both outsider and self-taught artists, Roca will discuss the relationship of industry to the landscape and the impact of globalisation on localised cultures.
José Roca is Artistic Director of FLORA ars+natura in Bogotá, Colombia. For a decade, he managed the arts program at Banco de la República in Bogotá. Roca was a co-curator of the Poly/graphic Triennial in San Juan, Puerto Rico (2004); the 27th Bienal de São Paulo, Brazil (2006); and the Encuentro de Medellín MDE07 (2007); and was the Artistic Director of Philagrafika 2010, Philadelphia's international Triennial celebrating print in contemporary art. He served on the awards jury for the 52nd Venice Biennial (2007), and was the chief curator of the 8 Bienal do Mercosul in Porto Alegre, Brazil (2011)and was adjunct curator of Latin American Art at Tate from 2012 to 2015. He is the author of Transpolitical: art in Colombia 1992-2012.
This talk has been organised for Groundwork by Gina Buenfeld, Exhibitions Curator at Camden Arts Centre, as part of a project supported by Arts Council England, The British Council and FLORA ars+natura.
Abel Rodriguez (Mogaje Guihu) is an elder from the Nonuya ethnic group from the Cahuinarí river in the Colombian Amazon. Now in his 70s, he has resettled on the outskirts of Bogotá having been displaced by the FARC guerrilla occupation and the exploitation of natural resources in the rainforest.
More