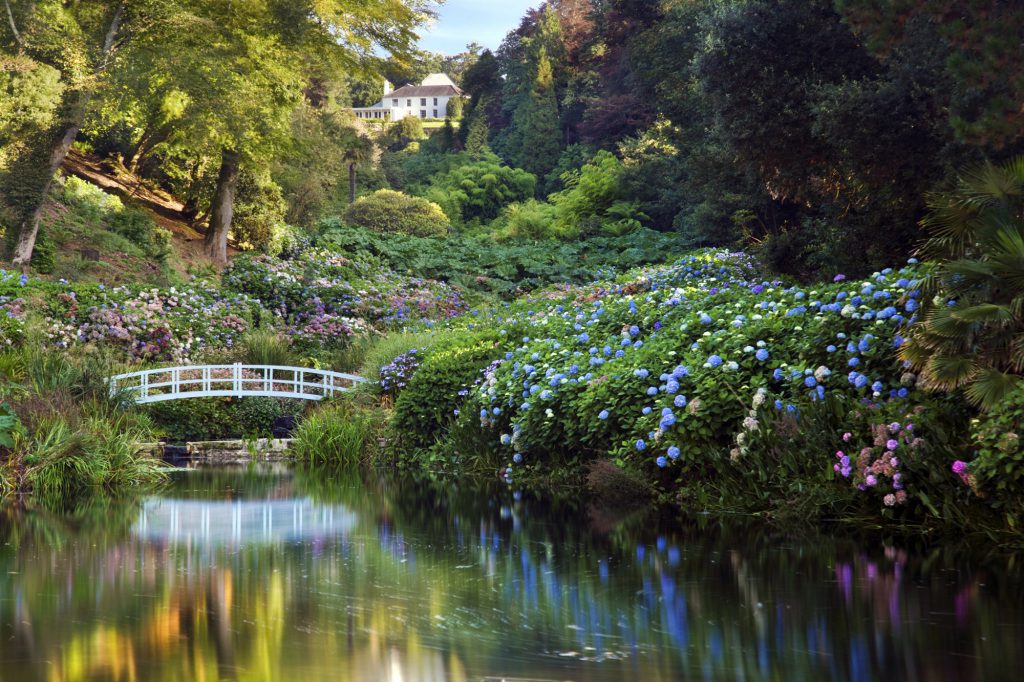 Image: photo by David Chapman, courtesy Trebah Garden Trust
Trebah Garden is a 26-acre sub-tropical garden above the Helford River near Mawnan Smith, open to the public throughout the year.
Records of Trebah date back to the Doomsday survey of 1085, when it was the property of the Bishop of Exeter. For centuries it passed by sale or marriage through a number of Cornish families. The surviving Georgian house at the head of the valley was built in the eighteenth century and pre-dates the garden. The Ordnance Survey map of 1813 shows Trebah as a wooded valley within which the garden was subsequently developed. The garden today is the cumulative result of almost 200 years of horticultural work dating back to Charles Fox, a wealthy Quaker who pioneered Trebah as a 26-acre pleasure garden.
Trebah Garden is a sub-tropical ravine garden leading down to the Helford River. In 1944 a concrete apron was built over Trebah beach for the D-Day embarkations, from which 7,500 US Infantrymen boarded ten landing craft to take part in the assault on Omaha Beach. This was removed in the 1960s.
In 1990 ownership of Trebah passed to the Trebah Garden Trust, an independent registered charity whose key objective is to preserve, enhance and re-create the garden for the enjoyment of the public.
Trebah Garden, Mawnan Smith, Falmouth TR11 5JZ