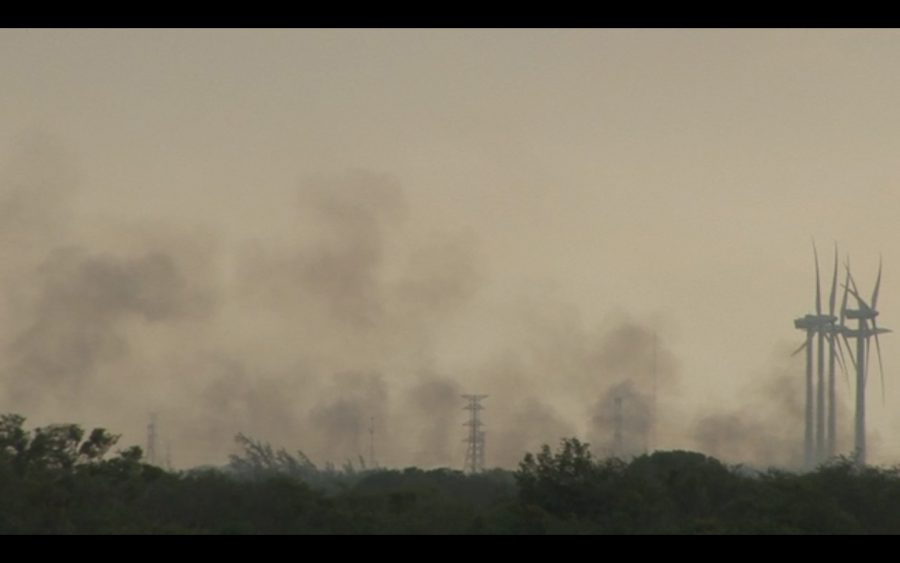 Image: courtesy the artist
Cast, Helston
Laureana Toledo
14 - 29 July
Opening hours:
Tuesday to Sunday, 10am – 5pm
Laureana Toledo's film installation Order and Progress (2013-18) will be presented at CAST, with live performances by cellist Natalia Pérez Turner.
Order and Progress addresses the exploitation of the natural resources of the Mexican isthmus, where the artist spent her early childhood. Drawing on Toledo's research into the connections between Mexico and Great Britain, the project questions the idea of progress through development, confronting the environmental devastation of the area and its human consequences
Laureana Toledo will be joined by Natalia Pérez Turner to play free live performances of the film score:
Saturday 14 July: 7pm, 7.30pm
Sunday 15 July: 12 noon, 12.30pm
Thursday 19 July: 6pm, 6.30pm
Friday 20 July: 6pm, 6.30pm
Saturday 21 July: 6pm, 6.30pm
The exhibition launch will be held at CAST on the evening of Saturday 14 July from 6pm and Laureana Toledo will be present to talk about her work after the live performances at 7pm and 7.30pm.
CAST Café will offer something hot and something sweet from £7 from 8pm onwards. Café reservations are not required.
The presentation of Order and Progress for Groundwork is supported by AMEXID, the Mexican Agency for International Development Cooperation.
Laureana Toledo's work often involves systematic and repetitive interventions into books, photographs and paintings, reformulating existing narratives. She trained in photography and works with film, music, performance and text. She pays attention to imperceptible or transient moments of everyday experience, speculating on how such phenomena can be given new form.
More