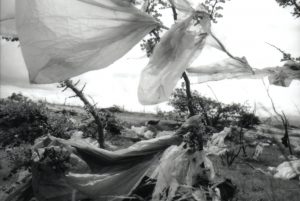 Image: courtesy the artist
Cast, Helston
Laureana Toledo
14 - 29 July
Opening hours:
Tuesday to Sunday, 10am – 5pm
Performance times will be announced soon
Laureana Toledo's sound and video installation Order and Progress (2013-18) will be presented at CAST, with live performances by cellist Natalia Perez Turner.
Order and Progress explores Britain's colonial exploitation of the natural resources on the Mexican isthmus, where the artist spent her early childhood. Drawing from Toledo's research into the connections between Mexico and Great Britain, the project examines historical events to question the idea of progress through development, and to investigate the political, social, and cultural contexts shared by these countries.
Laureana Toledo's work often involves systematic and repetitive interventions into books, photographs and paintings, reformulating existing narratives. She trained in photography and works with film, music, performance and text. She pays attention to imperceptible or transient moments of everyday experience, speculating on how such phenomena can be given new form.
More