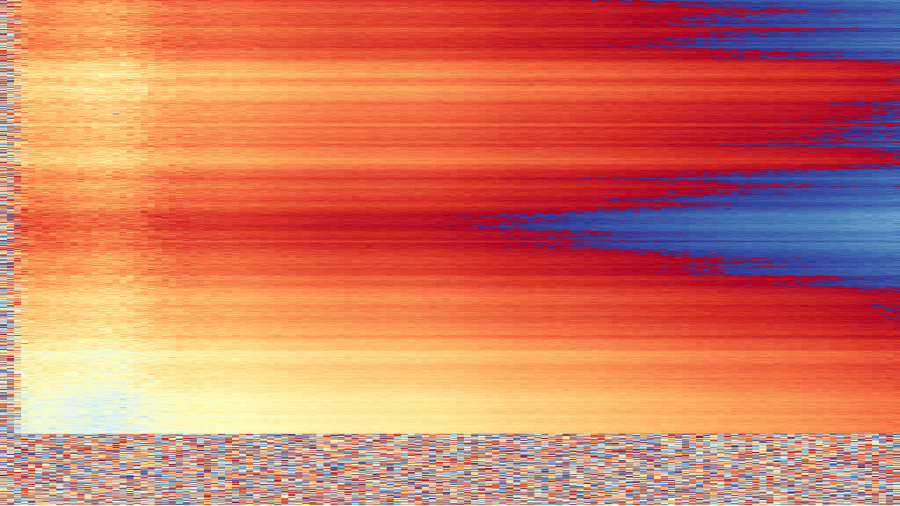 Image: courtesy the artists
Goonhilly Earth Station
Semiconductor
5 May – 3 June
Opening hours:
Tuesday to Sunday, 10am – 5pm
Film duration: 13 minutes 30 seconds
Artist duo Semiconductor were commissioned to make a new moving image work for Groundwork. As the World Turns is a science fiction, which questions how we experience nature through the language of science and technology. The work combines video footage filmed at Goonhilly Earth Station and scientific data acquired through the process of radio astronomy. The Goonhilly site brings with it a sense of its own history, the achievements once gained, future endeavours and of nature and technology co-existing.
As The World Turns will be presented in the Old Battery Store at Goonhilly Earth Station, with Simon Starling's Black Drop.
As the World Turns was commissioned by CAST for Groundwork, with research support from scientists associated with CUGA (Consortium of Universities for Goonhilly Astronomy).
Artist duo Semiconductor, Ruth Jarman and Joseph Gerhardt, work at the intersection of art and science. Over the past two decades they have become known for an innovative body of moving image work that explores the material nature of our world, how we experience it through the lens of science and technology, and how we create an understanding of it.
More