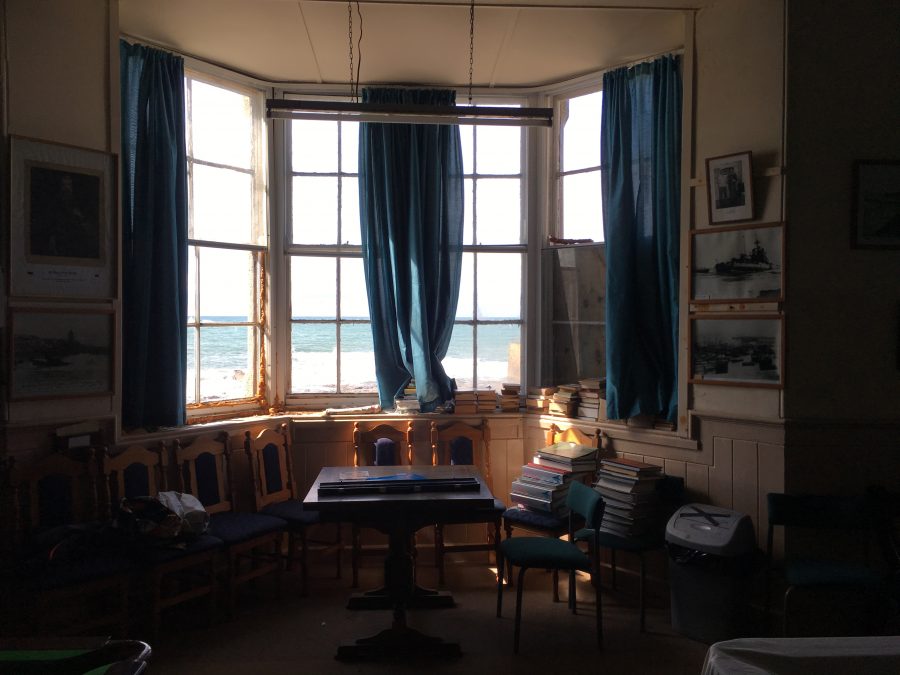 Image: courtesy Chris Fite-Wassilak
Bickford Smith Institute
Chris Fite-Wassilak
Sophie Mallett
9 June - 1 July
Opening hours:
Thursday to Sunday, 10.30am – 4.30pm
To whom it was given | a project hosted by the Bickford-Smith Institute Snooker Club, in the Bickford-Smith Institute, Porthleven
A prominent landmark at the mouth of Porthleven harbour, the Bickford-Smith Institute stands somewhere between the speculative promise of property development and idealised visions of the past.
In its over 130 years of existence, the Institute has been one of the most photographed buildings in the country, while its interior has only sporadically been open to the public. Originally founded in 1884 as a library 'open to all', the building has been home to successive generations of snooker club members since two snooker tables were installed in 1911. Studies are currently underway towards renovating the building, with its uses still to be decided.
Chris Fite-Wassilak and Sophie Mallett pitch the hyperbole of change against the rhetoric of heritage. They will use their project as a point where the two can coexist. Whilst ensuring that the space remains an active snooker hall, they will introduce various sculptural and narrative elements to augment and confuse the histories that cluster around the building.
Over the opening of the exhibition, the building will remain an active snooker hall; snooker playing and tuition will also be available, open to all, every Thursday between noon and 4pm.
A special opening event with Chris Fite-Wassilak and Sophie Mallet will start at 10.30am on Saturday 9 June.
____________________________________
Chris Fite-Wassilak
Chris Fite-Wassilak is a writer and critic based in London. He is co-ordinator with artist Anne Tallentire of the project 'hmn', and a contributing editor of ArtReview. His short book of essays Ha-Ha Crystal (2016) is published by Copy Press.
Sophie Mallett
Sophie Mallett is a London-based artist. Her practice is concerned with forms of belonging and exclusion and how these manifest through national borders, capital and migration. Through video, sound and installation she pursues a practice concentrating on the connections between history and place. Recent works and projects include: Artist-in-residence, Hangar CIA, Lisbon (2017); National Anthems, ICA, London and CCA, Derry~Londonderry (2017); Portrait (for a score), Tenderpixel, London (2017); Paradise Island, OUTPOST, Norwich (2017); Hypersea, Turner Contemporary, Margate (2016); Artist-in- residence, [SPACE], London (2016); Horrid Little Hands, Eastside Projects, Birmingham (2016); Liminal States, Royal College of Art, London, (2016).