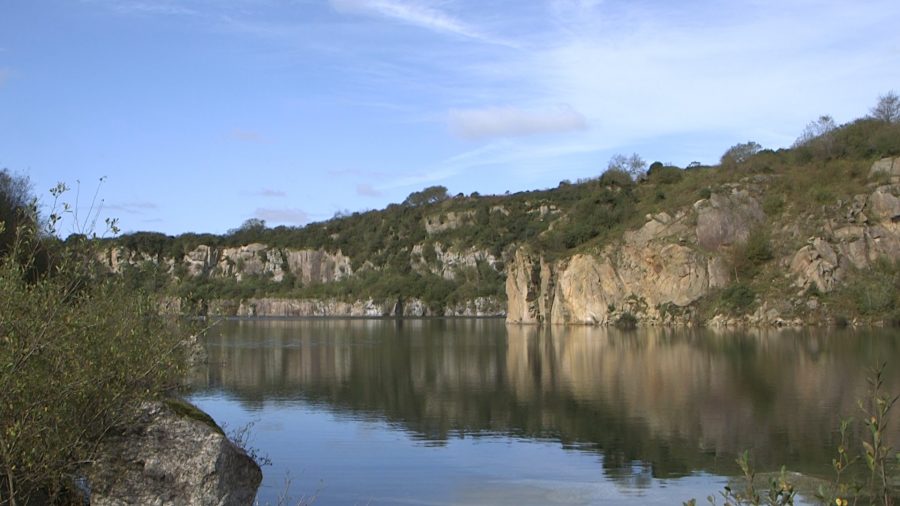 Newlyn Filmhouse
Tracing Granite | Film screening
Sunday 27 May, 11am
Free admission.
To book, phone Newlyn Filmhouse box office: 01736 332 222
Tracing Granite (2018) follows a Groundwork field trip that took place in October 2017. Led by Dr David Paton, Tracing Granite: In Search of a White Cross took its participants on a tour of the six granite districts in Cornwall and Devon. Over four days, film-maker Rachael Jones joined a group of artists, geologists, cultural geographers and writers and recorded their discussion, research and discoveries.
The film is both a subjective record of place and a document of thinking and exploration – an audio-visual form of research. Both the field trip and the film sought the synergy of creative, scientific and embodied knowledge, where and how people engage with their environments, and the impact of this engagement on knowledge and culture.
Watch an extract of Tracing Granite here.
Tracing Granite: In Search of a White Cross has been the subject of writing and record-making by other participants; texts commissioned by Groundwork are published on this website in Record. David Paton's essay Tracing Granite describes the geology of granite and includes two glossaries which draw on his connections with geologists and his stone-working expertise. In his essay, In Search of a White Cross, writer Patrick Langley describes a landscape (in Virginia Woolf's words) 'at once real and imaginary'.
Commissioned by Groundwork and supported by Falmouth University's School of Film and Television, Tracing Granite was shot and edited by Rachael Jones. Sound recorded by Celine Davies and music composed by Tom Wilson Kellett. Field trip participants Beth Pinner and Rose Ferraby supplied some of the artistic visuals for the film. Other participants included Ruth Siddall, Steve Claydon, Tim Martindale, Patrick Langley, Beth Simons, Hazel Gibson, Rob Smith, Nicola Thomas, James Strongman, Peter Randall-Page and Amanda Wood.
Rachael Jones
Based in Cornwall, Rachael Jones is a filmmaker whose work celebrates the overlap between mainstream and avant-garde filmmaking practices.
Rachael experiments with different techniques that bring together analogue and digital forms. She is interested in the aesthetics of collage, intertextuality and the fusion of found and newly created art forms through which ideas, layers of meaning and its interpretation are entertained.