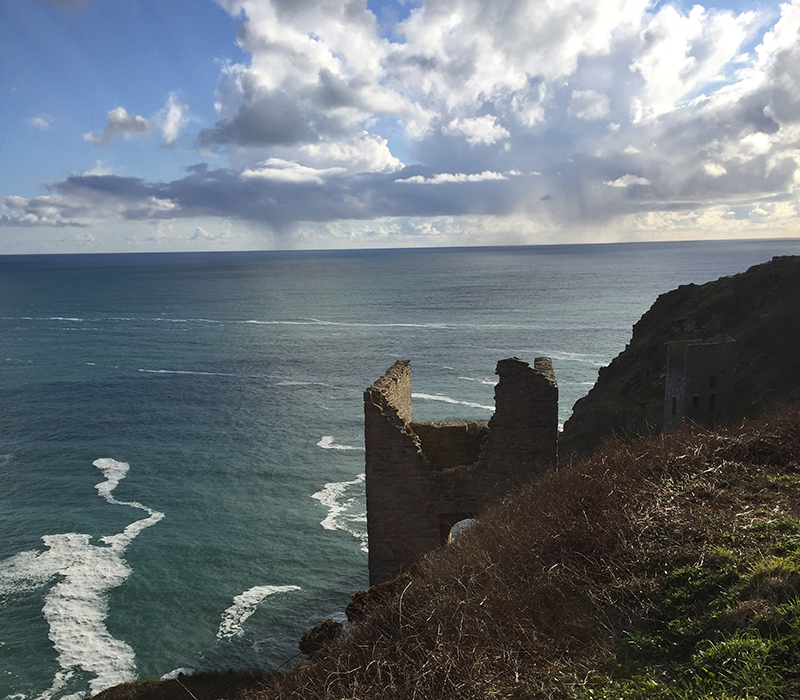 Rinsey and Porthleven
Field Trip | Rinsey, Trewavas and Tremearne
Sunday 16 September, 11am - 3pm
Artist Anthony Bryant and local mining historian Stephen Polglase will lead a field trip from Rinsey to Porthleven.
The walk will combine personal perspective with Anthony and Stephen's profound knowledge of the area. It will focus in depth on the history and geology of Wheal Prosper Mine and its iconic engine house situated on the cliff tops of Rinsey, Wheal Trewavas mine perched precariously on the cliffs to the east of Trewavas Head and Tremearne beach. The field trip sets out to develop an enhanced understanding of this dramatic section of coast path.
The walk will take approximately four hours and covers varied terrain – please bring suitable clothing, sturdy footwear and a packed lunch. As this is not a circular walk, the workshop leaders will coordinate transport between the finishing point at the Ship Inn, Porthleven back to the start at Rinsey car park.
Places are limited, please email [email protected] if you are interested in participating.
______________________________
Anthony Bryant
Artist Anthony Bryant was born in Cornwall and grew up around the Godolphin area. He is internationally recognised for his unsurpassed work in 'green' woodturning. He creates work which stretches the potential of the material to its furthest limits – both in scale and in his unrivalled ability to turn to an absolutely breathtaking thinness. Selected solo exhibitions include 'Slow Turning', Bluecoat Gallery, London and "At The Still Point", Kestle Barton Gallery, Cornwall.
Stephen Polglase
Stephen Polglase is a mining historian. His family have mined around Tregonning and Godolphin hills in West Cornwall since the sixteenth century. They have been successive mine captains at Great Work Mine, the mine situated on the metal rich saddle of land between the two hills.