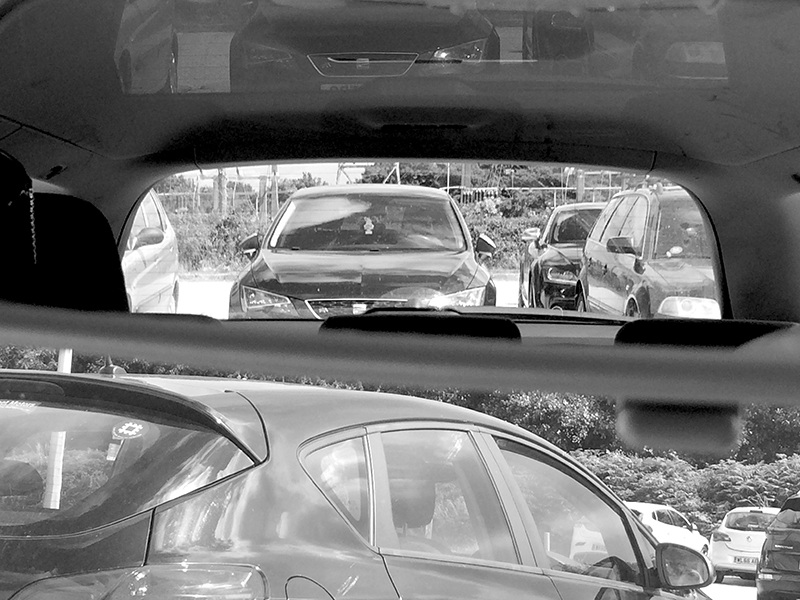 Photo: © Naomi Frears
a car park in Pool, Redruth
Naomi Frears
Sunday 9 September, 10.30am
All Going Nowhere Together
Free admission, booking essential
On the morning of Sunday 9 September, in a car park in Pool near Redruth cars will gather. A unique and temporary FM radio station will broadcast music by DJ Luke Vibert. A new track, Vibert's first made using just sound from Cornwall, will play through the sound system in each car. The cars (each one a tiny nightclub) will be directed to park in a choreographed sequence.
This work by Naomi Frears has its origins in a visit to the region by a German collective in 1999. They asked artists to choose their favourite short journey to a beauty spot, with the soundtrack of their choice. The excursion was filmed through the windscreen. Naomi, whose father had died six weeks before, asked the driver to go up to the big car park in town. Her trip involved parking repeatedly for several minutes. Her beauty spot was the car park. The track she chose was We're So Lovely by Wagon Christ (one of the many names of Luke Vibert). The music played, the car moved a lot without really going anywhere at all and, for the first time since her father's death, Naomi felt elated; she realised she might feel alright again.
In 2015 Naomi Frears contacted Luke Vibert and a conversation about working together began. Those odd car window shapes we are so used to frame much of what we see, from the 'inspiring' view to the more prosaic. With a soft spot for the 'uninspiring' appearance of a car park, Frears is looking forward to an event that will bring together a group of people one morning. They will be part of a choreography with cars as well as being able to experience the joy of listening to great new music quite loud in a confined space.
Booking is essential for this event. To book visit the Eventbrite booking page.
This project is supported by FEAST, a programme supporting great art to happen across Cornwall. Investment for FEAST comes from Arts Council England and Cornwall Council. The programme is managed by Creative Kernow.
__________________________
Naomi Frears 
Naomi Frears is based in the Porthmeor Studios in St Ives and works across multiple platforms. Her work includes making films as well as printmaking and painting. She also selects and presents the work of other artists and filmmakers and hosts events showcasing their work. Recent activities include a new film commission, screenings of her work at Tate St Ives, and an award for her film Study In Hindsight. She is currently making new work as a guest of Plymouth University. Naomi Frears also initiated and co-hosted an interdisciplinary residency The Long Weekend of Uncertainty at Kestle Barton and co-curated a night of dance and performance at Tate St Ives.
Luke Vibert
Luke Vibert has recorded his eclectic electronic music under names including Plug, Wagon Christ, and Kerrier District. Vibert grew up in Cornwall and has said that he developed his music so far from an urban centre that no one was watching what he made or how it sounded or what it was called. He campaigned unsuccessfully as a teenager for a weekly dance music show on Radio Cornwall. Now, with a large and devoted following, he DJs all over the world.