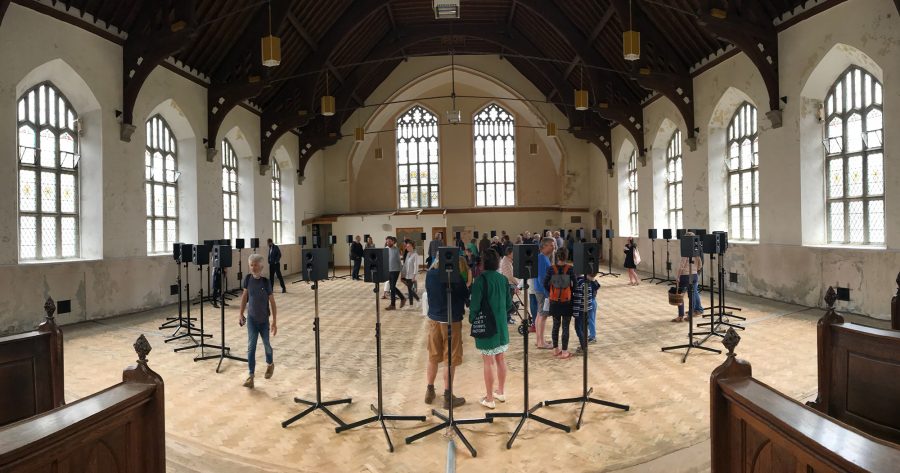 Image: Steve Tanner © CAST (Cornubian Arts & Science Trust), 2018.
Richmond Chapel
Janet Cardiff
25 May – 27 August
Opening hours:
Monday to Saturday, 10am – 5pm
Free admission, no booking required
Janet Cardiff's acclaimed sound installation Forty Part Motet (2001) is presented at Richmond Chapel in Penzance, a former Wesleyan Chapel and Grade II listed building.
Members of Salisbury Cathedral Choir are recorded singing an arrangement of the 1556 choral work Spem in Alium Nunquam Habui by Thomas Tallis. Forty separately recorded voices are played back through forty speakers. The speakers are configured in eight separate choirs, each consisting of five voices – Soprano, Alto, Tenor, Baritone and Bass.
The speakers are arranged in an oval in the centre of the chapel, enabling visitors to move around between them and feel the sculptural construction of Tallis' composition.
'While listening to a concert you are normally seated in front of the choir, in traditional audience position. With this piece I want the audience to be able to experience a piece of music from the viewpoint of the singers. Every performer hears a unique mix of the piece of music. Enabling the audience to move throughout the space allows them to be intimately connected with the voices'  Janet Cardiff
Opening Garden Party
A garden party to celebrate the opening of this exhibition takes place on Sunday 27 May, 2 – 4pm. Cream teas will be served in the chapel grounds. Free to attend, all welcome.
Originally produced in 2001 by Field Art Projects, Forty Part Motet has been exhibited internationally. This exhibition is presented for Groundwork by Newlyn Art Gallery & The Exchange courtesy Cardiff Miller Studio.
Janet Cardiff is celebrated for a body of work that comprises audio walks, sound works and sound installations. Born in Canada and now living in Canada and Berlin, she often works with her partner Georges Bures Miller, but first gained recognition as a solo artist.
More