Adam Chodzko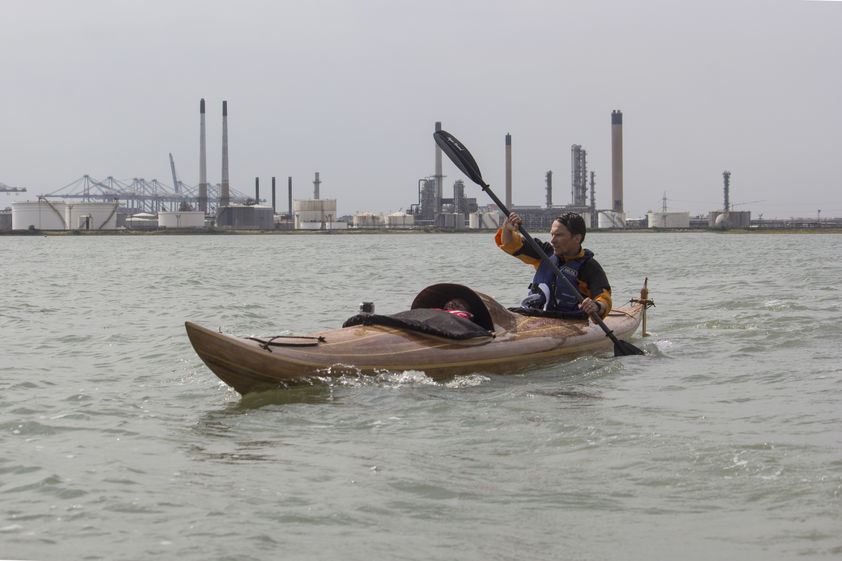 Image: Simon Fowler © Adam Chodzko
Adam Chodzko uses a wide range of media, including video, installation, photography, drawing and performance. His work focuses on our relationships to life's edges, endings, displacements, transitions, disappearances and in-between states and often involves looking in the 'wrong' place or in the 'wrong' way to discover productive mis-readings and to propose alternative realities. Operating between documentary and fantasy – especially in the form of science fiction – his practice is influenced by both conceptualism and surrealism.
Ghost, a hand-made wooden kayak, is fabricated from hundreds of strips of different woods and is both a vessel and a sculptural object. First exhibited in the Whitstable Biennale in 2010, it has since travelled along the River Medway and the River Tamar, through The Olympic Park, London, along the Tyne and in creeks through Essex. In each location members of the public are carried in a reclining position, in a state between waking and sleeping, their passage recorded by a camera mounted on the boat's prow.
Adam Chodzko lives and works in Whitstable, Kent. He has exhibited extensively in international solo and group exhibitions and projects including: Tate St Ives; Museo d'Arte Moderna, Bologna; Athens Biennale; Istanbul Biennale; Venice Biennale; Deste Foundation, Athens; PS1, New York; Ikon Gallery, Birmingham; Kunstmuseum Lucerne; Creative Time, New York; Hayward Gallery, London and Tate Britain.